Gallery I:
imPOSSIBLE!
8 Chinese Artists Engage Absurdity
An exhibition presented in collaboration with
The San Francisco Arts Commission Gallery
and the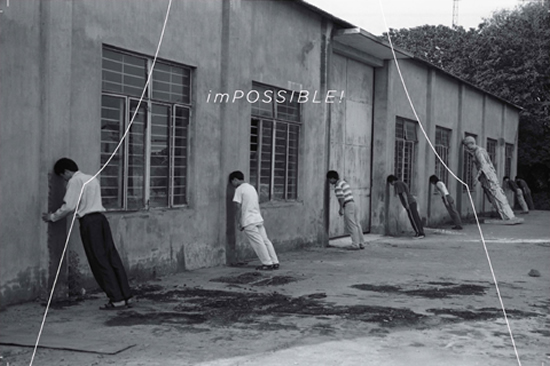 Including work by:
Yang Zhenzhong, Shi Yong, Lu Chunsheng, Xing Danwen, Ni Haifeng,
Zhu Jia, Xu Zhen, and Michael Zheng
Curated by:
Clark Buckner (MISSION 17), Hou Hanru (SFAI), Meg Shiffler (SFAC),
Exhibition Preview in The San Francisco Chronicle
MISSION 17 Reception, Friday, February 13, 6 - 9pm
Artists Exhibiting at MISSION 17: Yang Zhenzhong (Shanghai) and Shi Yong (Shanghai)
SFAC Gallery Reception, Friday, February 20, 6 - 8pm
Artists exhibiting at SFAC Gallery at 401 Van Ness: Lu Chunsheng (Shanghai), Xing Danwen (Beijing), Ni Haifeng (Amsterdam), Zhu Jia (Beijing), Xu Zhen (Shanghai) and Michael Zheng (San Francisco & Beijing)
PRESS RELEASE:
The San Francisco Arts Commission Gallery and MISSION 17 present imPOSSIBLE!; an exhibition in two locations featuring eight renowned Chinese artists who engage absurdity and theatricality in video and photographic works that respond to recent socio-political and economic circumstances in China. In addition, the SFAC Gallery and M17 have created a series of events to support this groundbreaking exhibition and have partnered with the San Francisco Chinese Culture Center in order to present an evening screening of longer video works by participating artists.
In 2007 San Francisco-based artist Michael Zheng organized a group of Chinese artists, six currently based in China as well as two artists who emigrated West around the time of the Tiananmen Square incident. They first met in Beijing, and later on in Shanghai, to discuss both the common threads in their work and how their various points of view, when assembled, might create an exhibition that would reveal distinct perspectives on contemporary Chinese art and life.
Zheng, a primary coordinator of this exhibition, recounts, "We reflected on recent developments in Chinese history and how they have created a social reality that is changing at a dizzying pace. The current economic boom has inspired a euphoria that fills Chinese citizens with hope, and everybody seems to be madly rushing to some grand vision of success, however illusive this success might be. The large population and exponential need for better systems of transportation has created an impossible daily traffic deadlock. The extreme polarity created by the early successes of capitalist experiments; the absolute corruption that leaves most people gasping for air; the inundation of media, the non-stop all encompassing noise created by traffic-all seem to be driving everybody to the edge. How have we, as Chinese artists, responded to such rapid and dramatic changes?"
The artists in imPOSSIBLE! engage strategies that include using humor that is slightly dark and often times ironic that create absurd or impossible scenarios, and confront highly exaggerated aesthetic and conceptual sensibilities. In a situation where radical change becomes an everyday experience, the artists found that by engaging these strategies they were able to create works that reconcile the past with the present and highlight the pace of contemporary life in China.
Public Programs
Panel Discussion
Sunday, February 22, 2pm
Location: SFAC Gallery, 401 Van Ness Avenue
Panel discussion with imPOSSIBLE! artists Xing Danwen, Zhu Jia, and Michael Zheng. Moderated by Hou Hanru.
Artists Talk
Saturday, February 28, 4-6pm
Location: MISSION 17
Artists participating in Cantocore: Free On Board will discuss contemporary art production in the decentralized global economy, as well as their work in relation to each other. Moderated by curator/artist Justin Hoover.
BYO Brown Bag Lunch
Wednesday, March 11, 1-2pm
Location: SFAC Gallery, 401 Van Ness Avenue
A discussion with imPOSSIBLE! exhibition coordinator/artist Michael Zheng, curator/artist Justin Hoover, and artist Gigi Janchang about cross-cultural dialogue and what it means to be a producer in a global art community.
Screening
Friday, March 27, 6 - 8pm
Location: Chinese Culture Center, 750 Kearny Street, 3rd Floor
This event is part of the "C4 Cinema" series featuring independent film and videos from China. The program for the evening will include two short videos by Xu Zhen, a feature length film, The History of Chemistry II, by Lu Chunsheng